The Walk-in Clinic is not an emergency department! If you have a life-threatening medical emergency contact 911 immediately!
Please call ahead to ensure we have an appointment for you.
Call ahead to 613-837-5454 to reserve a walk-in appointment.
Please note: Orleans Walk-In Clinic has a STRICT NO NARCOTIC/ NO BENZODIAZEPHINE/ NO SLEEPING PILL policy.
FAQ
Frequently asked questions
Walk-In Clinic FAQs
Web@Prosomo
Why does the walk in clinic sometimes close before its stated closing times?
In order to provide you with the quality medical care you deserve, we sometimes, have to close earlier than our stated hours. This may be because during these times the number of patients in the clinic may already be utilizing the full resources of our medical and support staff. Even if the waiting room may appear empty, there may still be patients in our examination rooms. We will try to accommodate your visit, but sometimes, we may have no choice but to close the walk in clinic early. Therefore, it is always best to call ahead of time and see if we can give you an estimate of when or if you will be able to see a doctor that day. We thank you for your patience and understanding.
How long will I have to wait to see a physician at the walk in clinic?
We cannot accurately predict how long you will have to wait to see a doctor at our walk in clinic. Patients are seen in the order of arrival and whether or not they have called ahead. Also the length of a patient's visit with the physician depends on the nature of their visit. Sometimes, a patient may be seen ahead of another due to an urgent matter. However, if you call ahead we may be able to give you some idea of how busy the walk in clinic is at that time, or we may in some cases, be able to reserve a window of time where a doctor may be more likely to be able to see you. If we are expecting you at a particular time it will be easier to ensure that a doctor will be able to see you promptly.
Why are some patients being taken to see a doctor before others?
There are many doctors working at the clinic. Patients are taken back according to who they are seeing and whether they have a booked appointment with their family physician. Not all of the patients and doctors you may see in the clinic are servicing the walk in on that day. Patients of Orleans Family Health Clinic are able to book an appointment with their own family doctor. There may also be instances where some patient are given priority in the event of a medical emergency.
I am from Quebec, Can I see a doctor at the walk in clinic?
Patients from Quebec are always welcome. It is always best to call ahead of time and see if we can give you an estimate of when you will be able to see a doctor that day.
What medications can I have renewed in the walk-in clinic?
You can ask the walk-in physician to renew your regular medications but if your family doctor does not practice at our clinic, it is our office policy we will not be able to renew your prescriptions for the following medications:
Any medication that is an opioid, narcotic or controlled drug
Medical Marijuana.
Painkillers such as: Percocet, Percodan, Oxycocet, Tylenol #3, Oxycontin, Oxycodone, Methadone, Morphine or other narcotic and controlled substances.
Any benzodiazepines such as: Clonazepam, Lorazepam (Ativan), Diazepam, (Valium) or others
Sleeping pills.
Stimulants such as: Ritalin, Dexedrine, Concerta, Adderall, Biphenin or others
What happens if I am sick and I can't get in to the walk in clinic or if the Clinic is closed?
If you have a life-threatening medical emergency, go to a hospital emergency room or call 9-1-1 immediately.
You can also call the Telehealth Ontario phone service at 1-866-797-0000 and speak to a registered nurse 24 hours a day, 7 days a week. This service is free and confidential.
You can ask the Telehealth nurse questions about health concerns, or describe symptoms you have. The nurse will help you to decide if you should go to a hospital emergency room, if you can wait to go to a doctor the next day, or if you can look after yourself at home.
Can I come to the walk in clinic to get a full check-up?
The following services will ONLY be provided for patients of the physicians practicing at Orleans Family Health Clinic. These services will NOT be provided by our walk in clinic physicians.
Complete physicals/drivers physicals
Routine baby-checks
Insurance physicals or pre-op physicals or forms
Narcotic and sedative renewals
Can I come to the walk-in clinic to get a referral for a specialist, chiropractor, massage therapist, orthotics, physiotherapist, etc.?
Our doctors will ONLY be able to write referrals for patients of the physicians practicing at Orleans Family Health Clinic. Referrals will NOT be provided by our walk in clinic physicians. This is your family doctor's responsibility.
Can I come in to see a doctor for a travel medicine consults?
Travel Medicine services are not covered by OHIP but are highly recommended before you travel abroad. We are pleased to provide comprehensive travel medicine consultations at our location provided by Destinations Travel and Immunization Clinic. They will be pleased to provide you and your family with a personalized travel medicine consult, and can recommend any medications or administer any vaccines that you may need for your trip.
Can I discuss my results with the doctor over the phone?
Our physicians do NOT give telephone advice and it is always better make an appointment with your physician to discuss your results in person. If you do require telephone advice, you may call Telehealth Ontario at 1 866-797-0000.
Can someone else call on my behalf to find out my test results?
Due to the Privacy Act we are unable to disclose information regarding your health over the phone or in person, to anyone other than the patient without expressed consent.  You may fill in the following form to authorize the release of your medical information.
Can I renew my prescription over the phone?
No, it is always a better idea to come in and see a physician to renew your medication.
What if I cannot attend my scheduled appointment with my doctor?
Patients are required to call and cancel their appointment with at least 48 hours of notice. Appointments missed without notice or recurrent missed appointments may be subject to $50 fee for a regular appointment and an $85 fee for a missed physical appointment.
What services are not covered by OHIP?
Please check the Non Insured Services page.
How do appointments work?
When you arrive at our clinic, please sign in with one of our receptionists. We will ask you for your current address, email address, phone number, and emergency contact number.
We will also need to physically see your provincial health card. Unfortunately, expired health cards will not be accepted. Please go to Service Ontario in advance to update your health card.
Try to bring ALL of your current medications with you or alternatively, bring a list of all of your medications for the visit.
Wear loose fitting clothing or clothes that are easy to remove if necessary.
Bring a list of the doctors that you have recently seen, especially the name of your family doctors.
If you only speak French, please bring a translator with you to your appointment. Many of our doctors and staff and doctors are bilingual; however, we cannot guarantee bilingual staff will always be available at the time of your visit. If you don't speak English or French, please bring a friend or family to translate for you.
What happens should I do after my appointment?
Please follow up with your family physician after visiting our Walk-in Clinic. If you do not have a family physician, we will make every effort to find you a physician within our health clinic. Although the physicians at our Walk-In clinic may assess and treat a wide range of medical conditions, a onetime visit to a new doctor does not provide you with long-term family medicine care.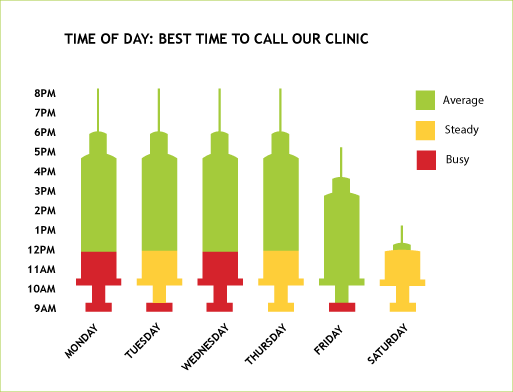 EMERGENCY? CALL 9-1-1
If you have a life-threatening medical emergency, contact 911 immediately!
Dial 911 to call an ambulance. Calling this number is free from any phone. Once in contact with the 911 operator, notify them of any health problems you or someone you know is facing. They will be able to evaluate the urgency of the situation and send an ambulance if needed.
For non-life-threatening conditions, same day emergency appointments are available with your doctor. (Please note that same day emergency appointments MUST be booked in the morning.) If your family doctor is fully booked, you can also visit our walk-in doctor.
After hours or on holidays, please call Telehealth Advisory (1-866-797-0000) to speak with a registered nurse. This service is free, confidential and available 24/7.